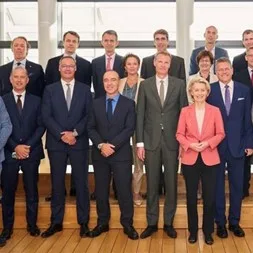 EU Representatives and Industry Leaders at the Inaugural Clean Transition Dialogue in Brussels, organized by the European Commission
BOSTON, MA. – October 12, 2023 – Advent Technologies Holdings, Inc. (NASDAQ: ADN) ("Advent" or the "Company"), an innovation-driven leader in the fuel cell and hydrogen technology sectors, actively participated in the inaugural Clean Transition Dialogue on Hydrogen organized by the European Commission in Brussels, Belgium on October 10, 2023.
This very significant event, which addressed the vital hydrogen sector's role in ensuring Europe's energy independence, brought together key figures from the EU and top executives from companies and organizations engaged in the European hydrogen value chain. The event opened with an address by European Commission President Ursula von der Leyen and featured a keynote speech by Executive Vice President Maroš Šefčovič. Specialized thematic sessions followed, during which participants explored ideas and best practices to strengthen the industrial dimension of the European Green Deal and expedite the growth of the hydrogen sector throughout Europe.
Dr. Vasilis Gregoriou, the Chairman and CEO of Advent Technologies, who also chairs the Coordination Group for the Important Project of Common European Interest ("IPCEI") in hydrogen technology, "Hy2Tech," had the opportunity to brief President von der Leyen on the progress of projects endorsed by the EU under IPCEI Hy2Tech. Dr. Gregoriou also addressed the length of time that it is taking to secure funding for Advent Technologies' EU-ratified Green HiPo project in Greece, reiterating the Company's resolute commitment to executing the project efficiently.
The Green HiPo project is among the 41 initiatives under IPCEI Hy2Tech, collectively prepared and reported by fifteen Member States. Its implementation is a pivotal step towards fulfilling the EU's goal of producing 10 million tonnes of renewable hydrogen in Europe by 2030. In July 2022, the European Commission officially ratified Advent's Green HiPo project following a notification by the Greek State in June 2022, securing total funding of up to EUR 782.1 million.
The Green HiPo project focuses on the development, design, and production of HTPEM fuel cell systems and electrolyser systems for the production of power and green hydrogen, respectively. Located in Kozani, Greece, this project is expected to play a crucial role in transitioning the Western Macedonia region from a coal-based economy to a more sustainable economic model. A state-of-the-art facility in Kozani will serve as the production hub for fuel cells and electrolysers, contributing significantly to the region's economic development.
Advent Technologies has already installed over 1,200 HTPEM fuel cell systems worldwide, replacing environmentally harmful diesel generators and providing clean energy to sectors such as telecommunications and critical communication infrastructure. Moreover, Advent is expected to lead the way in electrifying commercial ships, trucks, and aircraft, with these fuel cell systems being produced in the Kozani region as part of the Green HiPo project.
In the aftermath of the event, Dr. Vassilis Grigoriou, Advent's Chairman and CEO, stated, "There is no doubt that the European Union is eager to support hydrogen and related technologies to drive its green transition. We extend our gratitude to President Ursula von der Leyen and Executive Vice President Maroš Šefčovič for affording us the opportunity to collectively explore the industry's future. We remain hopeful that we will swiftly overcome the bottleneck in securing funding for the Green HiPo project, allowing us to accelerate its implementation, a project of paramount significance for the energy future of Greece and Europe."
About Advent Technologies Holdings, Inc.
Advent Technologies Holdings, Inc. is a U.S. corporation that develops, manufactures, and assembles complete fuel cell systems as well as supplying customers with critical components for fuel cells in the renewable energy sector.  Advent is headquartered in Boston, Massachusetts, with offices in California, Greece, Denmark, Germany, and the Philippines.  With more than 150 patents issued, pending, and/or licensed for fuel cell technology, Advent holds the IP for next-generation HT-PEM that enables various fuels to function at high temperatures and under extreme conditions – offering a flexible fuel option for the automotive, aviation, defense, oil and gas, marine, and power generation sectors. For more information, visit www.advent.energy.
Cautionary Note Regarding Forward-Looking Statements
This press release includes forward-looking statements.  These forward-looking statements generally can be identified by the use of words such as "anticipate," "expect," "plan," "could," "may," "will," "believe," "estimate," "forecast," "goal," "project," and other words of similar meaning.  Each forward-looking statement contained in this press release is subject to risks and uncertainties that could cause actual results to differ materially from those expressed or implied by such statement.  Applicable risks and uncertainties include, among others, the Company's ability to maintain the listing of the Company's common stock on Nasdaq; future financial performance; public securities' potential liquidity and trading; impact from the outcome of any known and unknown litigation; ability to forecast and maintain an adequate rate of revenue growth and appropriately plan its expenses; expectations regarding future expenditures; future mix of revenue and effect on gross margins; attraction and retention of qualified directors, officers, employees and key personnel; ability to compete effectively in a competitive industry; ability to protect and enhance Advent's corporate reputation and brand; expectations concerning its relationships and actions with technology partners and other third parties; impact from future regulatory, judicial and legislative changes to the industry; ability to locate and acquire complementary technologies or services and integrate those into the Company's business; future arrangements with, or investments in, other entities or associations; and intense competition and competitive pressure from other companies worldwide in the industries in which the Company will operate; and the risks identified under the heading "Risk Factors" in Advent's Annual Report on Form 10-K filed with the Securities and Exchange Commission ("SEC") on March 31, 2023, as well as the other information filed with the SEC. Investors are cautioned not to place considerable reliance on the forward-looking statements contained in this press release. You are encouraged to read Advent's filings with the SEC, available at www.sec.gov, for a discussion of these and other risks and uncertainties.  The forward-looking statements in this press release speak only as of the date of this document, and the Company undertakes no obligation to update or revise any of these statements. Advent's business is subject to substantial risks and uncertainties, including those referenced above.  Investors, potential investors, and others should give careful consideration to these risks and uncertainties.
Contacts
Advent Technologies Holdings, Inc.
Michael Trontzos
[email protected]