BOSTON–(BUSINESS WIRE)–Advent Technologies Holdings, Inc. (NASDAQ: ADN) ("Advent" or the "Company") is pleased to announce that on April 3, 2023, Massachusetts Governor Maura Healey, along with other elected officials, including State Senator Sal DiDomenico, Massachusetts Labor and Workforce Development Secretary Lauren Jones, Massachusetts Undersecretary for Energy Michael Judge, Massachusetts Undersecretary of Community Development Ashley Stolba, Massachusetts Undersecretary of Decarbonization and Resilience Katherine Antos, Galen Nelson of the Massachusetts Clean Energy Center, Eric White of the U.S. Department of Energy's Hydrogen and Fuel Cell Technology Office, Dr. Yu Seung Kim from the Los Alamos National Laboratory, as well as many esteemed guests and business partners, attended the grand opening of Advent's new fuel cell R&D and manufacturing facility at Hood Park in Charlestown, Massachusetts.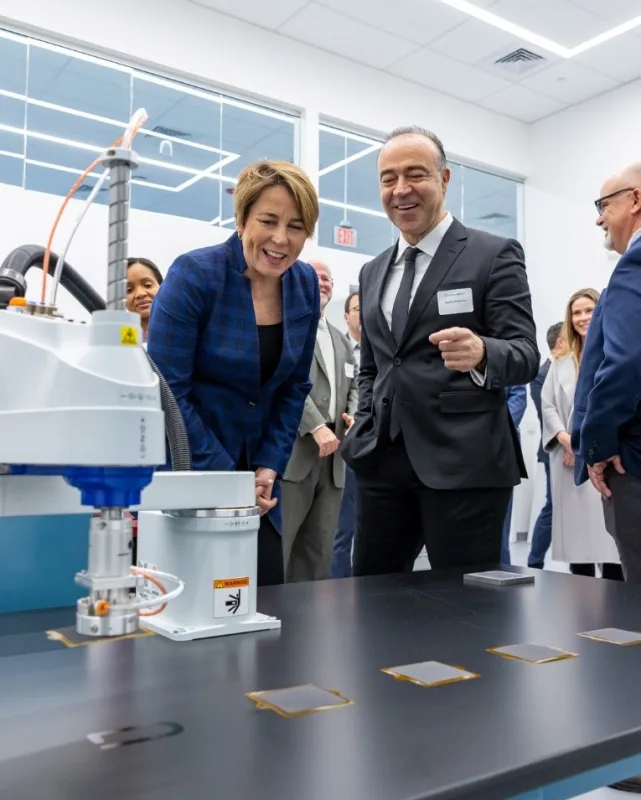 This new facility represents a significant investment in Advent's future growth, as it will allow the Company to expand its production capacity and fulfill the rising global demand for electrochemistry components in the clean energy sector. Guests toured Advent's new facility, which has:
State-of-the-art coating machines that support the seamless transition from prototypes to initial production runs for advanced membranes and electrodes of fuel cells
A fully analytical department dedicated to quality control, performance analysis, and improving product lifetime
Fuel cell and electrolyzer test stations for statistical process control and development of next-generation membrane electrode assembly ("MEA") materials
An engineering lab for developing automated assembly processes for MEAs and stacks
In addition, Advent executives and Massachusetts elected officials discussed the future of the State's clean energy sector and how the U.S. Department of Energy's Regional Clean Hydrogen Hubs program can accelerate its development. Advent is one of the companies that has co-signed a Memorandum of Understanding with the New York State Energy Research and Development Authority along with more than 60 clean hydrogen ecosystem partners to develop a proposal that will enable the Northeastern United States to become one of at least four regional clean hydrogen hubs.
Advent's new state-of-the-art facility at Hood Park brings together the Company's corporate office staff, previously located at 200 Clarendon Street in downtown Boston, and its R&D team from Somerville's Greentown Labs. The facility is equipped to manufacture a range of innovative products, including the Ion Pair™ MEA. This next-generation MEA technology aims to revolutionize the global market by enabling fuel cells to have an expected lifetime of at least three times longer and also deliver double the power density of Advent's earlier fuel cell systems, making them ideal for heavy-duty mobility applications.
According to the 2022 Massachusetts Clean Energy Industry Report, the clean energy sector contributed to more than $14.2 billion to Massachusetts' Gross State Product and employed more than 104,000 workers in 2021. Advent's newly established facility is expected to create employment opportunities for fuel cell engineers and material scientists in Massachusetts and further contribute to the growth of the clean energy sector.
Dr. Vasilis Gregoriou, Advent's Chairman and Chief Executive Officer, commented, "I would like to express my sincere appreciation to Governor Maura Healey, other elected officials, esteemed guests, and our business partners for joining us at the grand opening of Advent's new fuel cell R&D and manufacturing facility. Their presence was a testament to the importance of the clean energy industry in Massachusetts and the potential of hydrogen technology. On behalf of the entire Advent team, I would like to thank them for their support and encouragement as we strive to become a leader in the electrochemistry components industry and help accelerate the global transition to a net-zero carbon future."
About Advent Technologies Holdings, Inc.
Advent Technologies Holdings, Inc. is a U.S. corporation that develops, manufactures, and assembles complete fuel cell systems as well as supplying customers with critical components for fuel cells in the renewable energy sector. Advent is headquartered in Boston, Massachusetts, with offices in California, Greece, Denmark, Germany, and the Philippines. With more than 150 patents issued, pending, and/or licensed for fuel cell technology, Advent holds the IP for next-generation HT-PEM that enables various fuels to function at high temperatures and under extreme conditions, suitable for the automotive, aviation, defense, oil and gas, marine, and power generation sectors. For more information, visit www.advent.energy.
Cautionary Note Regarding Forward-Looking Statements
This press release includes forward-looking statements. These forward-looking statements generally can be identified by the use of words such as "anticipate," "expect," "plan," "could," "may," "will," "believe," "estimate," "forecast," "goal," "project," and other words of similar meaning. Each forward-looking statement contained in this press release is subject to risks and uncertainties that could cause actual results to differ materially from those expressed or implied by such statement. Applicable risks and uncertainties include, among others, the Company's ability to maintain the listing of the Company's common stock on Nasdaq; future financial performance; public securities' potential liquidity and trading; impact from the outcome of any known and unknown litigation; ability to forecast and maintain an adequate rate of revenue growth and appropriately plan its expenses; expectations regarding future expenditures; future mix of revenue and effect on gross margins; attraction and retention of qualified directors, officers, employees and key personnel; ability to compete effectively in a competitive industry; ability to protect and enhance Advent's corporate reputation and brand; expectations concerning its relationships and actions with technology partners and other third parties; impact from future regulatory, judicial and legislative changes to the industry; ability to locate and acquire complementary technologies or services and integrate those into the Company's business; future arrangements with, or investments in, other entities or associations; and intense competition and competitive pressure from other companies worldwide in the industries in which the Company will operate; and the risks identified under the heading "Risk Factors" in Advent's Annual Report on Form 10-K filed with the Securities and Exchange Commission ("SEC") on March 31, 2022, as well as the other information filed with the SEC. Investors are cautioned not to place considerable reliance on the forward-looking statements contained in this press release. You are encouraged to read Advent's filings with the SEC, available at www.sec.gov, for a discussion of these and other risks and uncertainties. The forward-looking statements in this press release speak only as of the date of this document, and the Company undertakes no obligation to update or revise any of these statements. Advent's business is subject to substantial risks and uncertainties, including those referenced above. Investors, potential investors, and others should give careful consideration to these risks and uncertainties.
Contacts
Advent Technologies Holdings, Inc.
Elisabeth Maragoula / Michael Trontzos
[email protected]